Biohazard Cleanup Services
Almost 30 Years of Biohazard Remediation
There's more to biohazard cleanup than one would assume at first glance. Blood and other bodily fluids create the risk of pathogens and contagions that are potentially harmful to everyone present. Steri-Clean is adept at providing professional, discreet decontamination for a variety of clients. We are proud to work with:
Commercial Property Management

Industrial Plants / Facilities
Police / Fire Departments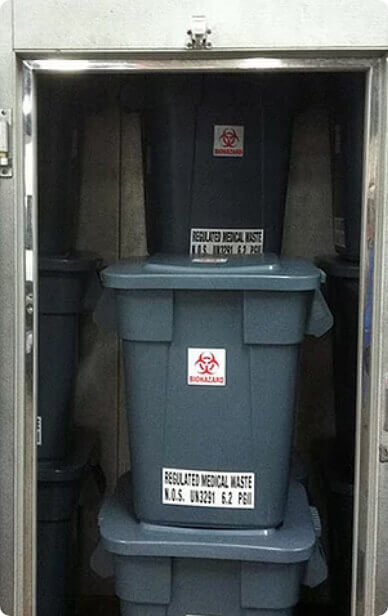 We are proud to be one of the most trusted providers of biohazard remediation and cleanup services. Steri-Clean has received the TIP Champion Award and Victims' Assistance Program Award in recognition of our proficiency and ethical practices.
At Steri-Clean we understand that every situation, client, and building is unique. We are determined to give everyone the same respect, compassion, and empathy that we would wish to receive. Our professional technicians drive discreet vehicles and are available 24/7 on any day of the year, ready to immediately answer your call.
We are industry leaders in biohazard cleanup. Our compassionate approach to customer care defines every service we provide. Your safety and peace of mind are our top priorities, so we respond quickly, work efficiently, and maintain privacy. Whatever your need, you can always count on our proven biohazard removal methods, OSHA compliance, and empathetic team members to provide support in traumatic situations. Contact your local Steri-Clean to see how we can help.
Biohazard Disinfection, Decontamination, and Removal
Dangerous viruses and bacteria, such as COVID-19, Hepatitis B and C, and HIV, can potentially live on improperly disinfected surfaces for weeks. Blood and other bodily fluids can carry these viruses as well as other airborne contagions.
Steri-Clean uses our advanced, proprietary equipment, technology, and processes to restore and ensure the remediation of your biohazard emergency. Before they begin, our professional technicians test and inspect the scene to understand the scope of the situation. They are trained to thoroughly and skillfully clean and disinfect every area that has had possible contact with contaminants. When the scene is disinfected, a follow-up test can be performed to ensure proper procedures have been used and the area is once again "Safe to Occupy."
The Biohazard Removal Process
Biohazard cleanup companies must comply with government regulations to ensure safety. Typically, a cleanup team begins by suiting up with PPE (personal protective equipment), such as a biohazard suit, mask, and gloves. The next step is to remove any materials affected by blood or other substances and store or dispose of them. Once any contaminated items have been removed, a team of experts cleans and decontaminates the space.
Because every situation is different, Steri-Clean ensures every technician has the training and tools to handle nearly any biohazard site. Our team of biohazard professionals follows step-by-step procedures to deliver the safest and most comprehensive removal services available. Here's how we do it:
ASSESS
A trained professional completes a detailed walkthrough and OSHA-mandated employee-safety hazard assessment of the scene. This initial assessment is the foundation for ensuring safe and effective removal.
CONTROL AND SETUP
Pathogens and contaminants can spread when not addressed quickly and completely. Per OSHA's recommended cross-contamination protocol, we control the affected area by securing it and closing it off to other areas.
REMOVE
Piece by piece, a team of experts removes items and materials contaminated by blood or other biohazards. This is the most critical step of the process, requiring experience and attention to detail to ensure nothing is missed.
CLEAN, DISINFECT, AND DEODORIZE
After removal, the team cleans, disinfects, and deodorizes using the most effective cleaners and EPA-approved disinfectants to deliver the safest and most complete biohazard restoration.
VERIFY
After cleanup and disinfection, the area is subjected to adenosine triphosphate (ATP) testing to ensure the highest levels of safety and decontamination.
There are no OSHA or other government regulations for providing biohazard cleanup services with compassion and respect—but there are at Steri-Clean. Every professional biohazard technician in our company is as skilled at customer care as they are at biohazard removal in order to help make traumatic events more manageable for all.
At Steri-Clean, our biohazard professionals receive up-to-date training to ensure the job gets done safely and efficiently while maintaining a compassionate mindset to comfort clients. Our cleaning team delivers the most comprehensive and ethical services for virtually every situation, including:
OPIM (other potentially infectious materials)
Steri-Clean works with most major insurance agencies to lessen the financial impact on your family or business. Our goal is to give you the support you need to recover from your disaster. Some insurance carriers and other entities cover our services in full, meaning you may not have to pay anything.
Let Steri-Clean help you take the first steps in your healing process.
Biohazard is the common abbreviation for biological hazard—potentially dangerous biological substances that pose a threat to humans and other animals. The most common biohazards are bacteria, viruses, and toxins. These are classified into four categories, from least to most dangerous.
BSL-1: Non-infectious bacteria, minor bacteria, and viruses that pose little danger.

BSL-2: Viruses and bacteria that can cause mild disease but are difficult to contract.

BSL-3: Bacteria and viruses that can be fatal but are easily managed with vaccines and other treatments.

BSL-4: Viruses and bacteria that can cause fatal diseases and for which there is no vaccine or other treatment.
According to Boston University, biohazardous waste poses a substantial hazard to human health or the environment when improperly treated, stored, transported, or disposed of. Professionally trained teams of technicians are required to combat the dangers of biohazards and ensure the safety of all parties involved.
Let Steri-Clean help you take the first steps in your healing process.
Biohazard FAQs
What does biohazard cleanup include?
Steri-Clean's professional services for hazardous areas include removing contaminated materials and items, cleaning, sanitizing, and deodorizing. You can learn more about biohazards and their removal on the Steri-Clean blog.
How do you clean up biohazards?
Every service provided by Steri-Clean follows industry guidelines and government regulations for biohazard cleaning services. Our products and equipment are proven to provide the safest and most effective cleaning tools available.
What do biohazard cleaners do?
The job of a biohazard cleaner is to completely clean, sanitize, and deodorize sites where blood and other hazardous substances are present. Biohazard cleaners from Steri-Clean also prioritize every customer's peace of mind.
What does OSHA require for the disposal of biohazard waste?
OSHA requires specific containers for handling, storing, transporting, and disposing of biohazardous materials. These OSHA-approved containers must be labeled immediately after the materials have been gathered to ensure accurate identification of the biological matter.