Professional Crime Scene Cleanup and Remediation Services
Crime scene cleanup involves the safe removal of blood, bodily fluids, and other biohazards by trained technicians, a process also known as biohazard remediation or forensic cleanup. Professional crime scene cleanup is necessary to remove potentially harmful pathogens and other contaminants that remain on the scene following accidents, homicides, suicides, and other traumatic events.
When you have to deal with a traumatizing event such as a crime or homicide, the last thing you should have to worry about is the crime scene cleanup. When you call us to conduct a professional and thorough crime scene cleanup, we arrive in discreet vehicles that do not announce the fact that we are there for homicide cleanup. We value your privacy and have compassion for what you're going through. Our goal is to get your home, business, automobile, or other property safe and back to normal as soon as possible, at an affordable price.
If you are dealing with excessive bodily fluids including blood that covers more area than the size of a small dinner plate, you should immediately call a professional murder or crime scene cleanup company to assess the hazards involved. These fluids aren't only dangerous if touched; harmful pathogens can become airborne, and if surfaces aren't properly cleaned, they can still contain contagions, even if nothing is visible.
Steri-Clean specializes in comprehensive, professional, and compassionate crime scene cleaning. Since 1995, our experienced technicians have provided expert removal and remediation of biohazards and empathetic customer care. We understand the trauma involved with a crime scene, so our team works quickly and efficiently to minimize the dangers and the emotional impact. When you partner with Steri-Clean, you can count on thorough, discreet, and humane biohazard cleanup.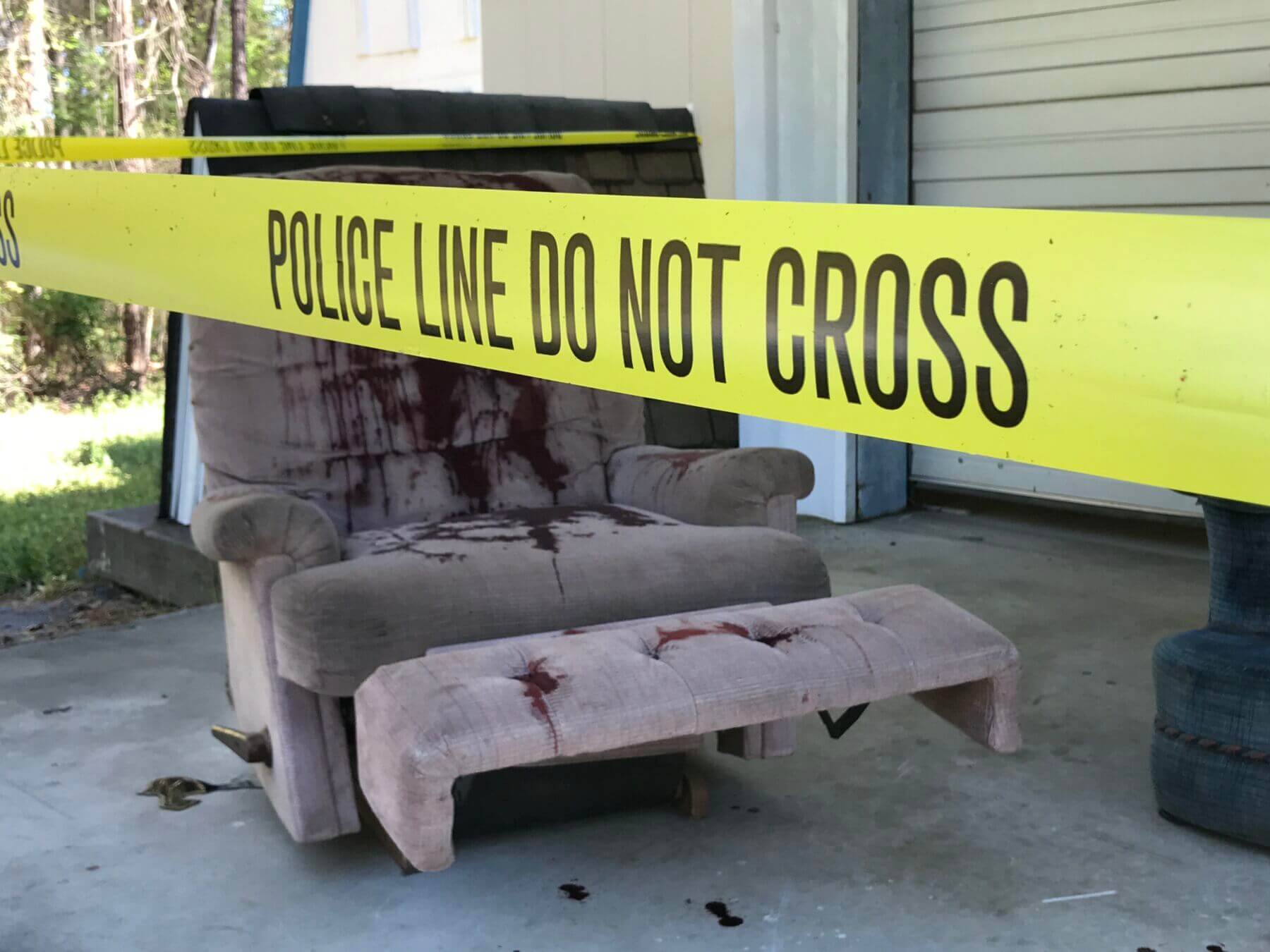 Steri-Clean specializes in all types of crime scene cleanup. Even when no bodily fluids are involved, tear gas or fingerprint dust can still be damaging to a building and its contents. This isn't something you should ever have to deal with on your own. Our crime scene cleaner specialists are only a call away. Regardless of the time of day or night, Steri-Clean is here for you.
Our professional technicians are ready to come to your aid any time of the day, any day of the week, any week of the year. Our state-of-the-art, proprietary cleaning equipment and techniques will disinfect and decontaminate every room and surface. We work with most major insurance carriers which greatly reduces the financial burden you will feel.
Don't wait to call a professional. Steri-Clean will be there to restore your property and help your life or business start the road to recovery.
The Process of Crime Scene Cleanup
Steri-Clean's crime scene remediation process is OSHA-compliant and based on decades of experience in hazardous material management. Our professional biohazard teams arrive on time, follow proven procedures, and restore affected areas to their pre-crime status with a uniquely human touch. The following steps demonstrate how Steri-Clean ensures a safe and complete crime scene cleaning:
Crime scene assessment
A professional crime scene technician begins the cleanup process with a detailed scene assessment, conducted under the guidance of OSHA-mandated employee safety hazard requirements. A thorough inspection allows our team to design a safe and efficient strategy for minimizing biohazards and providing a comprehensive cleaning.
Scene control
Per OSHA's recommended cross-contamination protocol, the scene is secured and closed off from other parts of the structure. Our technicians use plastic sheeting or other barriers to create a safe zone around the crime scene to minimize the spread of pathogens.
Biohazard removal
Because all bodily fluids are considered biohazards, blood, tissue, and similar matter must be removed completely. The Steri-Clean team removes visible blood stains, biological matter, and contaminated items from the scene.
Cleaning, disinfecting, and deodorizing
Once biohazards and contaminated items have been removed, a cleaning team decontaminates and deodorizes the site using proven cleaners and EPA-approved disinfectants. The cleanup process ensures the crime scene is safe and the area is restored to its pre-crime state.
Verification
Steri-Clean completes every crime scene cleanup with adenosine triphosphate (ATP) testing technology to guarantee a high level of disinfection. We consider a crime scene safe and completely clean only when the area passes the ATP test.
Steri-Clean's expert crime scene cleanup teams use this proven strategy to handle bodily fluids, hoarding filth, animal waste and carcasses, and drug lab remediation and cleaning. View our service areas to find a professional crime scene cleaning team near you.
Types of Crime Scene Cleanup Services
Steri-Clean provides crime scene restoration services for everything from homicide to tear gas usage. Crime scene cleaning and remediation require specific methods and attention to detail that typical cleaning services simply can't provide. Our professional technicians are experts in the fields relevant to crime scene cleanup, emphasizing the removal of blood and other biohazards to restore a site to its original condition. Each of our specialists is trained to manage and remediate the following:
Biohazard removal

Blood cleanup

Crime scene cleanup

Decomposition cleanup

Fingerprint dust removal

Infection control

Odor control

Suicide cleanup

Tear gas remediation
When you partner with Steri-Clean, you can count on state-of-the-art crime scene cleaning equipment, proven remediation methods, and complete disinfection and decontamination. You can also count on working with respectful and empathetic professionals who understand the emotional toll a crime scene can create.
Steri-Clean's Approach to Professional Crime Scene Cleanup
Steri-Clean's mission is to return crime scenes to their original state while ensuring the safety and peace of mind of those involved. We created Steri-Clean with one goal: to provide the highest level of expertise for remediating biohazards with a focus on our customers' well-being. Professional crime scene cleaners can't erase the pain of those affected, but they can erase the remnants of a traumatic event. We invite you to learn more about biohazards and professional remediation by visiting our blog.
Importance of Hiring a Crime Scene Cleanup Company
Nearly all biohazard cleanup services in the U.S. follow the regulations of government organizations like OSHA, EPA, and DOT. In addition to these rules and industry best practices, additional federal and state regulations govern the treatment of specific biohazards and locations. While a standard cleaning service may be able to remove the surface signs of a crime scene, it's critical to understand that even a deep cleaning can still leave behind pathogens and other contaminants. Only a specialized cleaning service has the knowledge and experience to decontaminate a crime scene and ensure its safety.
The health hazards of crime scenes are well-documented and require professional remediation for proper management and removal. Because of the specialized nature of blood-borne pathogens and other biohazards endemic to crime scenes, there is no substitute for experienced crime scene remediation services. When you partner with Steri-Clean, you can rest assured that every technician is fully trained and follows industry procedures to ensure a safe and complete biohazard cleanup.
Crime Scene Cleanup Service FAQs
How do you become a crime scene cleanup expert?
You don't need a formal education to be a crime scene cleaner, but professional training is essential. Most crime scene cleaning companies provide both OSHA training and hands-on field training. Training to become a crime scene cleaning technician should include safe biohazard remediation methods and compassionate customer care.
How hard is crime scene cleanup?
Crime scene cleaning is a highly specialized and detailed skill that requires specialized training. The cleanup after a crime can be physically and emotionally challenging, but a proven strategy for safe and efficient remediation makes the process more manageable.
Do crime scene cleaners remove bodies?
Cleaning a crime scene can include the handling of dead bodies. Crime scene cleaners are trained to thoroughly disinfect bodies and the surrounding area to minimize trauma and health hazards. No matter what a given crime scene requires, professional cleaners go above and beyond to get the job done.
What chemicals do crime scene cleaners use?
The most common chemicals are bleach and peroxide, which are effective disinfectants. In addition, crime scene cleaners use enzyme solutions to re-liquefy blood and other bodily fluids in order to remove the substances from surfaces. Enzyme solutions are also used to re-liquify dried blood and other bodily fluids.