Orlando Extreme Cleaning Services by Steri-Clean
Welcome to Steri-Clean's Extreme Cleaning Services Orlando. With over 30 years of expertise in crime scene, biohazard cleanup, remediation, and more, we are Orlando's trusted partner for all extreme cleaning needs.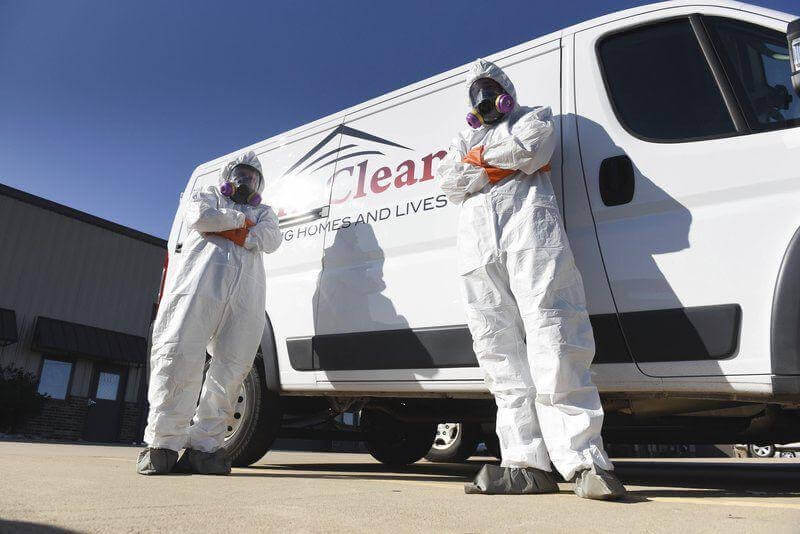 Why Choose Steri-Clean for Extreme Cleaning in Orlando?
Steri-Clean stands out in the realm of extreme cleaning services in Orlando. Our team is equipped with specialized equipment and trained to handle biohazardous materials with utmost precision. Our rich industry experience ensures that every corner of your space is spotless and safe.
Orlando Extreme Cleaning Services Phone Number
Immediate assistance is just a call away. Contact us at (321) 240-1694 for any queries or to schedule a service.
Orlando Extreme Cleaning Services Cost
At Steri-Clean, we believe in transparency. The nature and extent of the cleanup required influence the cost of our extreme cleaning services in Orlando. Rest assured, our competitive pricing ensures unparalleled value for every dollar spent.
Beyond the regular, there's extreme cleaning in Orlando. Our extreme house cleaning dives deep, addressing areas often overlooked in routine cleans. Experience a home that's not just clean but Steri-Clean. Discover more about our Florida Extreme Cleaning services and how we serve the broader region.
Extreme House Cleaning Services Near Me
Are you located in Orlando or its vicinity? Steri-Clean, Orlando's leading extreme cleaning company, offers prompt and efficient services just around the corner. Our local expertise ensures we're always in sync with your specific needs.
Orlando Extreme Cleaning Services Reviews
Our commitment to excellence is reflected in the words of our satisfied customers. From the meticulous cleanup of crime scenes to the detailed decontamination services in Orlando, our clients applaud our attention to detail and professionalism. Dive into our before and after gallery to witness the transformations we've achieved.
BIOHAZARD CLEANUP IN ORLANDO, FLORIDA
I'm truly grateful to Cindy and her dedicated team. Though I rarely pen down reviews, exceptional service compels me to acknowledge it.
In the wake of an unforeseen incident at my home, I reached out to multiple companies for cleanup quotations. Some never responded, while a few seemed to exploit our distressing situation.
However, Cindy stood out. She promptly visited our residence the next day and shared her estimate by evening. Even before securing the job, she generously left us a gallon of cleaning solution. Her rates were reasonable, devoid of any intimidation or overcharging tactics. The Steri-Clean crew arrived within a day and immaculately cleaned our home in record time.
Our project manager, Steve, and his team were meticulous, guiding us on the merits and demerits of retaining certain items. In times of adversity, the last thing one needs is to feel exploited. Cindy ensured we felt supported, rather than victimized, throughout the process.
For genuine and trustworthy service, I wholeheartedly endorse Cindy and Steri-Clean.
– Levett, Fl
Orlando, Florida: A Hub for Quality Cleaning Services
Orlando isn't just known for its attractions and bustling businesses and homes. Steri-Clean's commitment to this vibrant city is unwavering, ensuring every Orlando resident can access top-tier Orlando decontamination and cleaning services.
Explore our broader Florida Extreme Cleaning Services for those seeking specialized services. We also offer these services in Orlando: 
Deep Cleaning vs. Standard Cleaning
While standard cleaning keeps your space presentable, deep cleaning is a comprehensive approach that rejuvenates every nook and cranny. Consider standard cleaning as a routine checkup and Orlando decontamination services as a detailed health examination.
Commercial Cleaning Prices and Deep Cleaning
Commercial spaces demand a different cleaning approach. Our rates are crafted considering various factors, ensuring you always get the best. When it comes to deep cleaning, we ensure that every inch of your commercial space reflects professionalism.
Trust Steri-Clean Orlando For All Your Extreme Cleaning Needs
Orlando trusts Steri-Clean for a reason. Our dedication, expertise, and commitment to excellence make us the preferred choice for all extreme cleaning services in Orlando. Reach out today and experience the Steri-Clean difference.
Extreme Cleaning Resources for Orlando Residents
At Steri-Clean Orlando, we're committed to uplifting our community beyond merely offering our services. Here's a list of local resources for those seeking assistance:
Orlando Extreme Cleaning FAQs
Deep cleaning is an exhaustive process that targets areas often missed in regular cleaning. In contrast, standard cleaning maintains routine cleanliness.