How To Properly Disinfect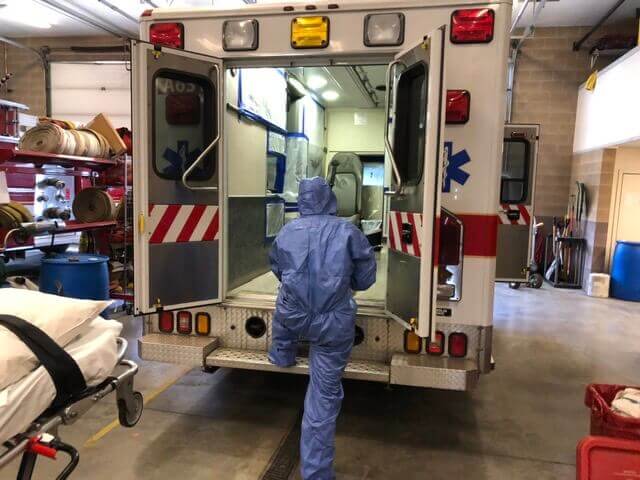 STOP spraying disinfectants on your countertops, door handles and other commonly touched surfaces until you watch this. You will be SHOCKED at how this simply does NOT work. Steri-Clean President and Founder, Cory Chalmers, explains in this VIDEO how you can use common disinfectants to effectively clean your spaces against germs.
We are shocked at the amount of companies who are not properly trained or certified to perform this type of disinfection. We are seeing pest control companies, car detailers and everyday janitorial companies all claiming that they can treat and disinfect for COVID-19. From reading their ads and seeing their promotional videos, it is beyond clear that they are NOT taking the proper steps to make this claim. Merely spraying disinfectant everywhere DOES NOT disinfect.
Please be smart and educated before you choose a company to perform disinfection for you at your home or workplace. It really could mean a matter of life and death if not performed correctly, not to mention potentially huge lawsuits for the companies making these claims without proper education, certification or the correct system of process to perform the disinfection.
Steri-Clean, Inc.® is prepared nationwide to respond to Infectious Disease and Coronavirus outbreak exposure. With over 25 years of experience, Steri-Clean, Inc.® has successfully worked with state and local governments, school districts, hospitals, commercial businesses and private citizens on disinfection and biohazard remediation following known and/or suspected pathogen exposures.
We have performed disinfection in vehicles, healthcare settings, government buildings, commercial businesses and residences with exposures to C. Difficile, Hepatitis, MRSA, superbugs, rodent and pigeon droppings through professional and proper use and application appropriate disinfect for the type of microorganisms we are treating. Steri-Clean, Inc.® uses environmentally friendly 'green' and EPA registered products with documented "Emerging Pathogens" kill claims (Coronavirus's current classification).
We have a deep knowledge of public safety, risk mitigation and fiscal responsibility with private/commercial and publicly funded organizations. We are equipped and experienced in handling large scale disinfection services for commercial buildings and schools. If your business or school would like assistance in developing a contingency plan in the event that anyone in your organization is affected, please give us a call. We are here to help in every stage of the process.
For more information, visit our Infection Control service page
Visit our YouTube Channel to watch this video and more HERE
Have questions and want to talk to someone now?
Call our toll free, 24 hour helpline at (888) 577-7206