Cape Coral Hoarding Cleanup
In the heart of Cape Coral, the need for professional hoarding cleanup is paramount. Steri-Clean is a beacon of hope, offering comprehensive Cape Coral Hoarding Cleanup services. We understand the sensitivity and urgency of these situations, ensuring a swift, respectful, and thorough cleanup process.
Hoarding Cleanup Cape Coral Phone Number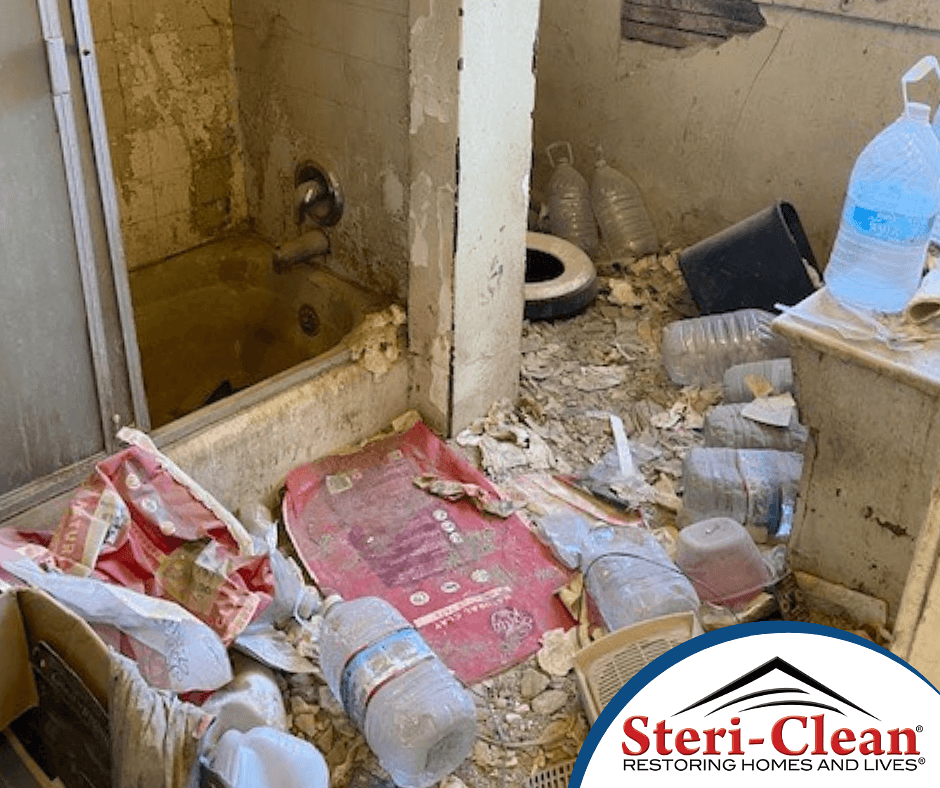 Cape Coral Hoarding Cleanup Services
In Cape Coral, where the sun shines bright, shadows of clutter and hoarding can cloud the joy of living. At Steri-Clean, we illuminate the path to cleanliness and order. Our dedicated team provides extensive Cape Coral hoarding cleanup services, ensuring every corner of your space regains its original form. We handle everything from clutter removal to deep cleaning, allowing you to reclaim your space and peace of mind.
Comprehensive Cleanup Process
Our comprehensive cleanup process begins with a respectful and compassionate approach to each unique situation. We understand the emotional toll hoarding can take, and we're here to support you every step of the way. Our experts assess the extent of the clutter, creating a customized cleanup plan that addresses your specific needs and concerns. We prioritize your comfort and satisfaction throughout the process, ensuring a smooth and hassle-free experience.
Specialized Cleaning Techniques
Utilizing specialized cleaning techniques, our skilled team tackles various challenges presented by hoarding environments. From removing unwanted items and debris to sanitizing and deodorizing the premises, we leave no stone unturned. Our meticulous attention to detail ensures a thorough cleanup, restoring your property to a safe and habitable condition.
Additional Support and Resources
Beyond the physical cleanup, Steri-Clean offers additional support and resources to help maintain the cleanliness and order of your space. We provide guidance and education on organizational skills and clutter management, empowering you to take control and prevent future hoarding situations. Your journey to a clean, organized, harmonious living environment begins with Steri-Clean's Cape Coral hoarding cleanup services.
Embrace the freedom of a clutter-free space with Steri-Clean. Let us help you rediscover the joy and comfort of your home, ensuring it remains a sanctuary of peace and well-being for years to come.
Why Choose Steri-Clean Cape Coral?
Why trust Steri-Clean for hoarding cleanup in Cape Coral, FL? Our seasoned team, with a rich history in various cleanup domains, brings unmatched expertise to every project. We also offer a range of other services, ensuring your space is clean but also safe and healthy. Learn more about our services in steri-clean cape coral.
Cleaning Hoarders Companies
Choosing the right hoarding cleanup company in Cape Coral, FL is crucial. Steri-Clean stands out, ensuring each project is handled with utmost care, professionalism, and efficiency.
Help with Hoarding and Clutter
Steri-Clean is here to assist you with all hoarding and clutter issues. We understand the complexities of hoarding disorder and OCD, providing tailored solutions to meet individual needs and situations.
Cost to Clean Hoarder House
What is the cost to clean a hoarder house? While various factors influence prices, Steri-Clean ensures transparent, fair pricing for all services. Discover more about the Cape Coral Government Cleanup Event to learn about additional resources and support.
Additional Resources for Cape Coral Hoarding Situations
Explore the Cape Coral Government Waste Removal Program for more information on waste removal and other related services in Cape Coral.
Ready to take the first step towards a cleaner, safer home? Call us at (239) 932-4001 or explore our hoarding cleaning services for more details. Choose Steri-Clean for reliable, compassionate Cape Coral hoarding cleanup services. Your journey to a cleaner, safer environment begins with us. Make the call today and reclaim your space and peace of mind.
Cape Coral Hoarding Cleanup FAQs